Registration Date:
21-02-2014
Rank:
Former Lurker
Profile Viewed:
1472
Threads:
1 (0.00 per day)
Posts:
20 (0.01 per day)
Last Post:

Thread:

Silly Game (3055)


Last Thread Poster:

KT1972


Board:

We Challenge You! (28)


Post Topic:

Last Visit:
16-04-2018, at 03:19
Events:
Show Events

---

ICQ Number:
No declaration
AIM Screenname:
No declaration
YIM Screenname:
No declaration
MSN Screenname:
No declaration
eMail:
brian@brianjepson.com
Homepage:
No declaration

---

Gender:
Male
birthday:
No declaration
Style:
Forum Default

---

Location:
Austin
Interests:
The Beatles, history, guitars, music, good Scotch, Mexican food
Occupation:
Voice Actor
Away Message:
No declaration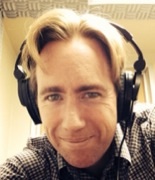 Professional voice actor and amateur musician. Ex graphic designer and old fan of Battle of the Planets. Voice of Joe the Condor in the English dub of Gatchaman and Gatchaman OVA.