Registration Date:
21-03-2010
Rank:
GatchaFreak
Profile Viewed:
3738
Threads:
5 (0.00 per day)
Posts:
2604 (0.77 per day)
Last Post:

Thread:

Gift Exchange 2011 (3819)


Last Thread Poster:

clouddancer


Board:

We Challenge You! (28)


Post Topic:

Last Visit:
01-09-2013, at 22:53
Events:
Show Events

---

ICQ Number:
No declaration
AIM Screenname:
No declaration
YIM Screenname:
No declaration
MSN Screenname:
No declaration
eMail:
cbernard@indy.rr.com
Homepage:
No declaration

---

Gender:
Female
birthday:
12.01.1963
Style:
Forum Default

---

Location:
Indianapolis, Indiana USA
Interests:
Writing, Music, Friends and certain TV shows
Occupation:
Signage Fabricator
Away Message:
Haven't fallen off the planet, just a bit overwhelmed by it.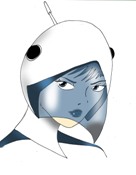 I was a BotP fan back in the late 1970's and have found it again while needing a little breathing space in another fandom. I am a fanfic writer who is trying to write a first BotP story.