Registration Date:
03-07-2008
Rank:
Master Boardie
Profile Viewed:
2012
Threads:
6 (0.00 per day)
Posts:
667 (0.17 per day)
Last Post:

Thread:

Let me draw your Bird Style (2875)


Last Thread Poster:

UnpublishedWriter


Board:

The Artists Pallete (705)


Post Topic:

Last Visit:
13-06-2010, at 19:16
Events:
Show Events

---

ICQ Number:
No declaration
AIM Screenname:
terrihasacat
YIM Screenname:
No declaration
MSN Screenname:
No declaration
eMail:
gogirl212@gmail.com
Homepage:
No declaration

---

Gender:
Female
birthday:
16.07.
Style:
Forum Default

---

Location:
Illinois, USA
Interests:
making theater, reading, writing
Occupation:
production manager
Away Message:
No declaration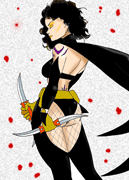 Very grown up woman who is a moonstruck teenage girl when it comes to Gatchaman. The fact that I make my living in the theater does nothing to curb my overly developed imagination.