Registration Date:
05-04-2006
Rank:
Exalted Member
Profile Viewed:
2578
Threads:
0 (0.00 per day)
Posts:
249 (0.05 per day)
Last Post:

Thread:

Merry Xmas! (5655)


Last Thread Poster:

DeDe3


Board:

Announcements! (1)


Post Topic:

Last Visit:
02-03-2020, at 16:51
Events:
Show Events

---

ICQ Number:
No declaration
AIM Screenname:
No declaration
YIM Screenname:
No declaration
MSN Screenname:
No declaration
eMail:
Uwenny@aol.com
Homepage:
No declaration

---

Gender:
Female
birthday:
25.09.1968
Style:
Forum Default

---

Location:
Arizona
Interests:
I am a Barbie Doll Collector,an anime doll and action figures collector.
Occupation:
No declaration
Away Message:
No declaration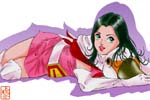 I love classic anime and some of the new anime out. I mostly love Speed Racer, BOTP and Voltron.